Auburndale Historic District
Auburndale Historic District
Established in 2005, the District includes approximately 275 properties and encompasses two National Register Districts.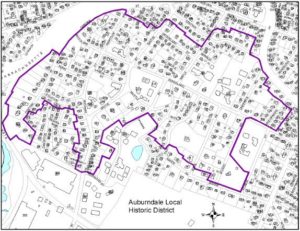 The neighborhood includes examples of the changing tastes in architectural styles from the 1840s through the early twentieth century but also exhibits a strong cohesiveness in size, scale and overall massing, a richness of craftsmanship.
Buildings also display an appreciation for the bucolic and spacious settings on large suburban lots.
The historic district is administered through the City's Department of Planning.
Auburndale Historic District Commission reviews plans for exterior alterations, new construction, and demolition. The Commission meets on the second Tuesday of each month. Meeting agendas and minutes are available online.